Money talks
Over on one of the comments on the
RKBA daily updates
there were several complaints about the
Cleveland newspaper
listing people who have CCL permits. One poster named Codrea4 said this
I repeat what I have been calling for since hints the Plain Dealer would do this first started to surface-- if you want to put an end to this nonsense, start posting info on their ADVERTISERS.
Damn good idea people. So here is a small selection to get the ball rolling.

Looks like two on the first page I looked at. Adelphia and century21.
Called
Adelphia
and talked to a nice lady who gave me their complaint line. The city she said the office was in was cuttersville, but if wrong please contact me and I will fix. Call them and tell them you are not happy.
Adelphia
cuttersville(?)
office of the president
complaint line
1 303 268 6540
Open standard business hours during weekdays
Using Clifton's zipcode, the reporter of the editorial, I found this for the local Adelphia office information nearest him.
Address
3400 Lakeside Ave.
Cleveland, OH 44114

Customer Service
888-683-1000
How about Century21 you say.
Now Century21 has a lot of
local offices
. Just look at all of those stars. Why not take a little bit of your time this weekend when rates are low on your calling plan and say hi to each of them. Be nice and tell them why you are unhappy.
Here is the fine list of offices to call.
1. DePiero & Associates, Inc.
5581 Ridge Road
Parma, OH 44129
440-842-7010

2. Arrow Realty
4975 Turney Road
Garfield Heights, OH 44125
216-883-2100

3. Trammell-O'Donnell & Assoc., Inc
7087 Pearl Road
Middleburg Heights, OH 44130
440-888-6800

4. Beyond 2000 Realty
6370 York Road
Parma Heights, OH 44130
440-842-7200

5. Solid Gold Properties II, Inc.
405 Broadway Avenue
Bedford, OH 44146
440-439-5220

6. Leo Baur, Realtors
22340 Lake Shore Boulevard
Euclid, OH 44123
216-289-1655

7. Best Service, Inc.
6579 Wilson Mills Road
Mayfield Village, OH 44143
440-449-2100

8. All Service, Inc.
6454 Pearl Road
Parma Heights, OH 44130
440-888-4000

9. Ohio Northern Realty
19220 Lorain Road
Fairview Park, OH 44126
440-895-2121

10. Leaders
5666 Mayfield Road
Lyndhurst, OH 44124
440-443-2100

11. Leaders
10 Public Square
Willoughby, OH 44094
440-942-2100
Now the banner ads on another page looked like this

Now here we have another heading. Same Adelphia, but a new
Niagara travel company
. Why travel when you can call?. Nothing says love like a toll free 800 number people.
1-800-338-7890 is the number to call, and call, but not to much. Make it known you are unhappy.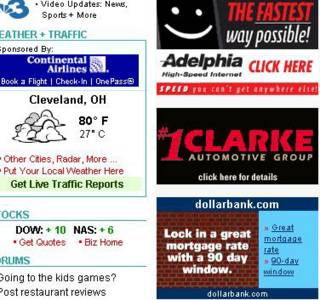 Here is a side bar for one page. Same Adelphia, but also
Clarke Dodge Kia of Mentor
. They also have a lovely 800 number just screaming to be called. They also have a nice
online comment form
. Go for it.
Phone: 800-825-1817 or 440-951-2900
Who, or what is dollarbank? I have no idea. But they do have a nice 800 number also. So call them and tell them you're unhappy and why.
Here is their contact page
.
Customer Service Number: 1-800-828-5527
Account Service Representatives can be reached Monday through Friday 8 a.m. to 8 p.m., and Saturdays 9 a.m. to 3 p.m.

E-mail us at: customerservice@dollarbank.com
So that ends today's advertising numbers. I hope all of you take the time to call and leave a calm message about why you are unhappy with the local newspaper and the ones who support them